After seeing Korea and Taiwan, I visited my homeland for 2 weeks. Visiting Vietnam leaves me great memories with the country I grew up in. I was born and raised in Ho Chi Minh City, Vietnam. I became a US citizen 5 years after my family moved, but I consider myself very attached to the Vietnamese culture and customs. Vietnam is still a developing country, but I find myself amazed every time I come back since there's always something new to see.
HO CHI MINH CITY
I mainly used my time in Saigon to visit my family members/friends and to eat lol. I took my boyfriend and friends around District 1 for some sightseeing at Cho Ben Thanh (Ben Thanh Market) and the Bitexco Financial Tower. Here are some views of the city.
DA NANG
After a few days in Saigon, we landed in Da Nang in the afternoon and we planned to spend the rest our evening at Hoi An. It took around 35 to 40 minutes to get from Da Nang to Hoi An by taxi. The town has a warm and vibrant atmosphere, filled with food stalls and restaurants. Hoi An is popular for its unique yellow-painted walls, but these are only visible during the daytime. If you google Hoi An, you'll know what I am talking about. Unfortunately, we did not have much time to stay in Hoi An and see it fully. Hoi An is beautiful during both daylight and night time, so the next time you visit, make sure set aside at least 1 day here.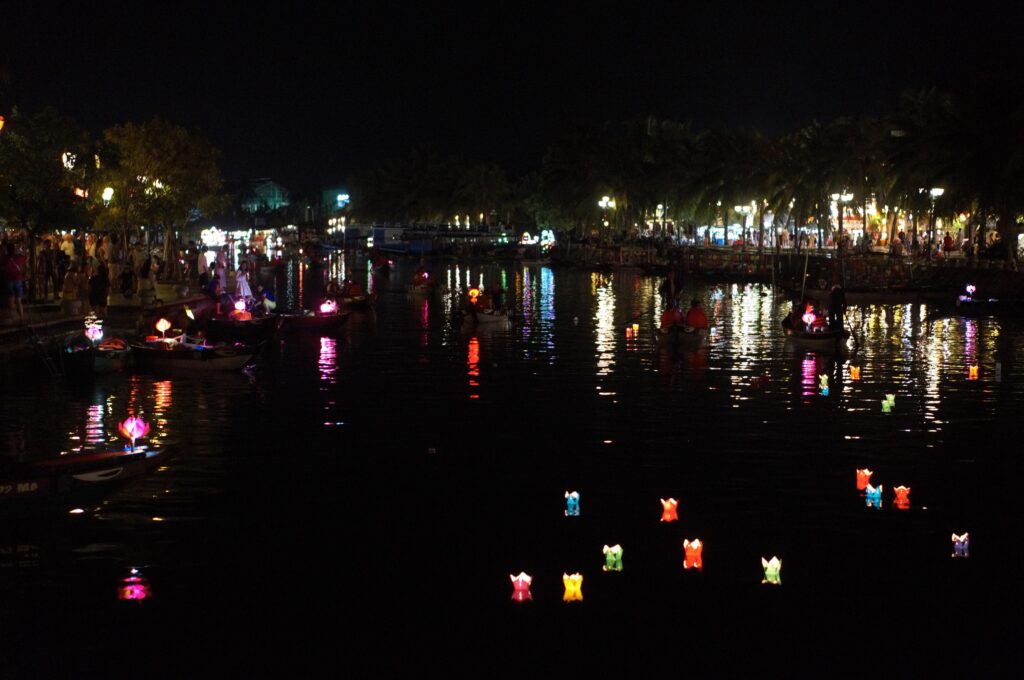 The next day we bought our tickets to Ba Na hill. I suggest planning at least half a day in Ba Na since the cable car takes a while from its base to up the mountain. The view and the architecture of the bridge was amazing. It can get very crowded on the bridge, so you should either be there early or close to their closing time for some nice shots.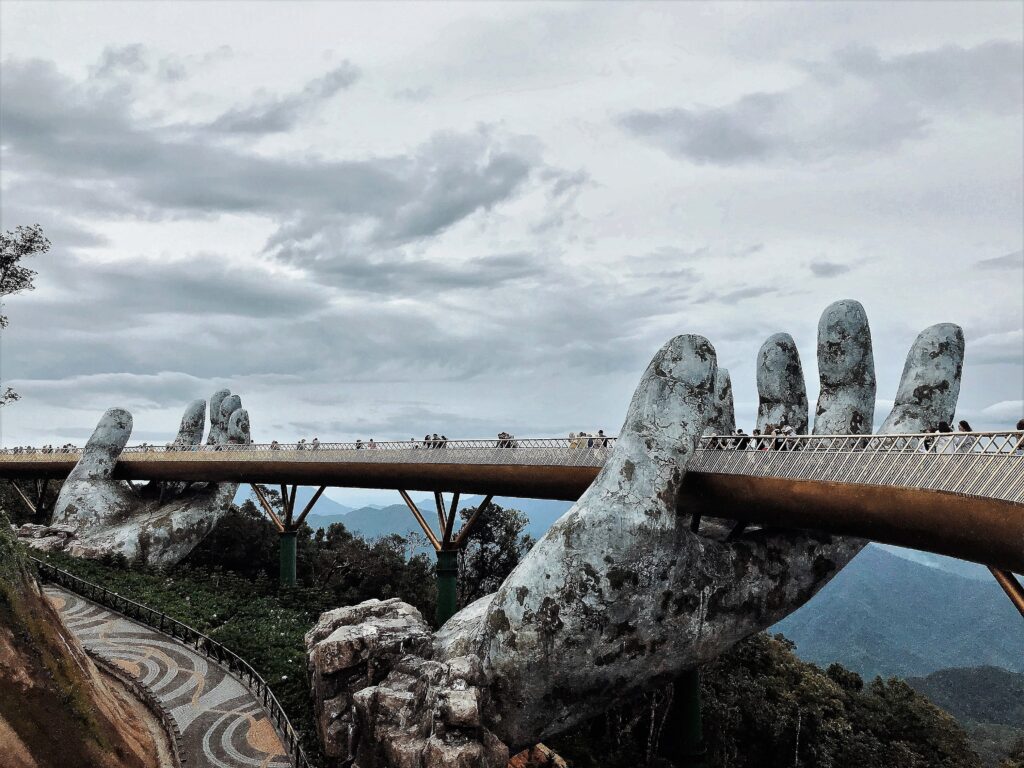 The third day in Da Nang we rented scooters to ride around the city and saw Marbles Mountain and Linh Ung Pagoda. The heart poles are the signature feature of the Love Lock Bridge, looking across from the famous Dragon Bridge. We got to the Marbles Mountain around noon. This area is known for the numerous marble quarries that surround the area. We took a quiet hike up to the Marbles Mountain overlook for some nice views of the city and beach.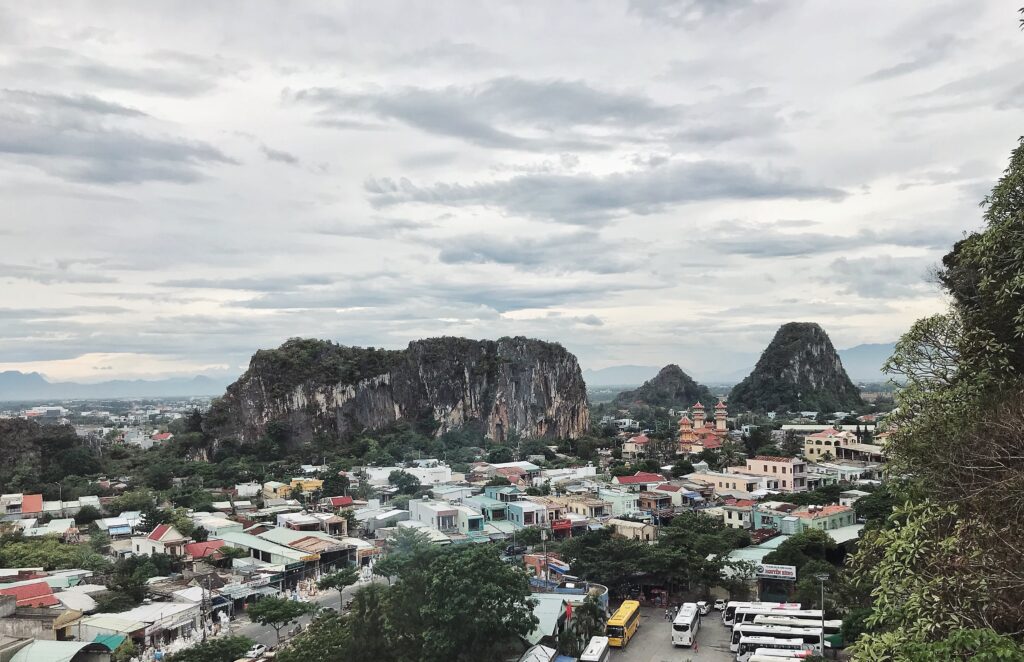 After climbing up the Marbles Mountain, we rode our scooters to see Ling Ung Pagoda on the Son Tra Peninsula. This pagoda contains the biggest Lady Buddha statue in Da Nang, along with a charming mountain landscape and amazing view of the ocean. We enjoyed Mi Quang so many times when we're in Da Nang and I recommend that to everyone.
HA NOI
Ha Noi is popular for its dishes such as bun cha, pho, bun dau mam tom, cha ca, ca phe trung, etc. The first night there we had Cha Ca La Vong (107 Nguyễn Trường Tộ, Hà Nội, Vietnam). This restaurant is popular in both Vietnam and abroad for their fried fish paste and fermented shrimp paste (mam tom). The next morning, we had pho for breakfast before leaving for Huong Pagodas. The only pho place that I recommend to everyone is Pho Ly Quoc Su (the main store is on 10 Ly Quoc Su, Ha Noi).
Day 1 in Ha Noi: CHUA HUONG (HUONG PAGODAS and HUONG TICH CAVE)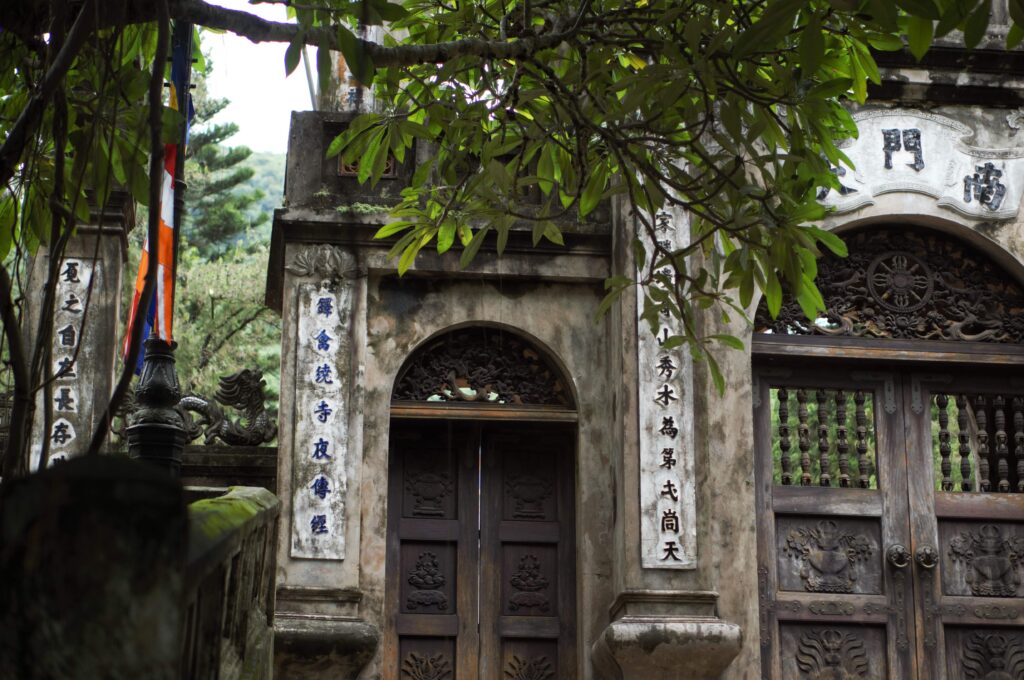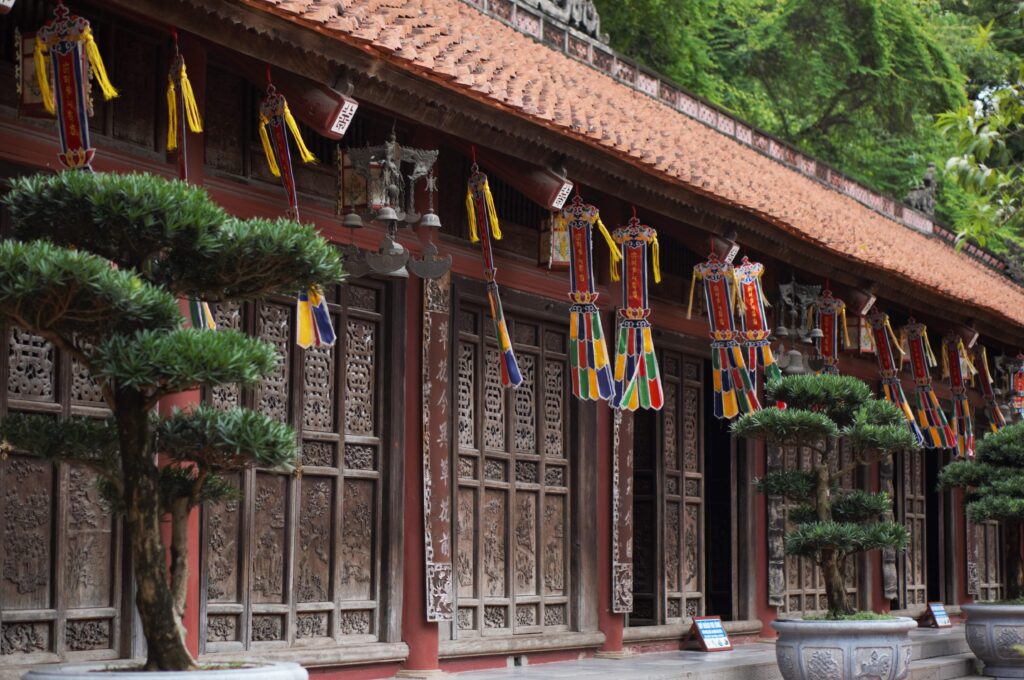 Day 2 in Ha Noi: TRANG AN, NINH BINH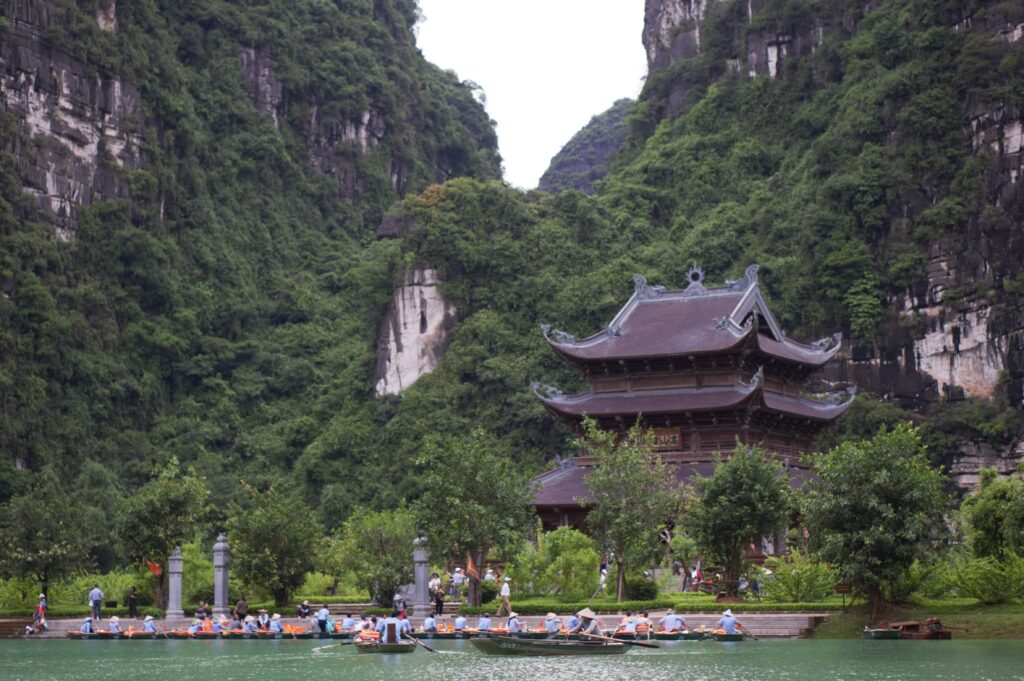 Trang An and Ninh Binh are must sees if you are in Hanoi, Vietnam. It took around 2 hours to drive from Hanoi to Ninh Binh. We first visited Bai Dinh Temple which consists of the old temple (which you cannot visit) and the newly built complex. After lunch, we headed to Trang An Scenic Landscape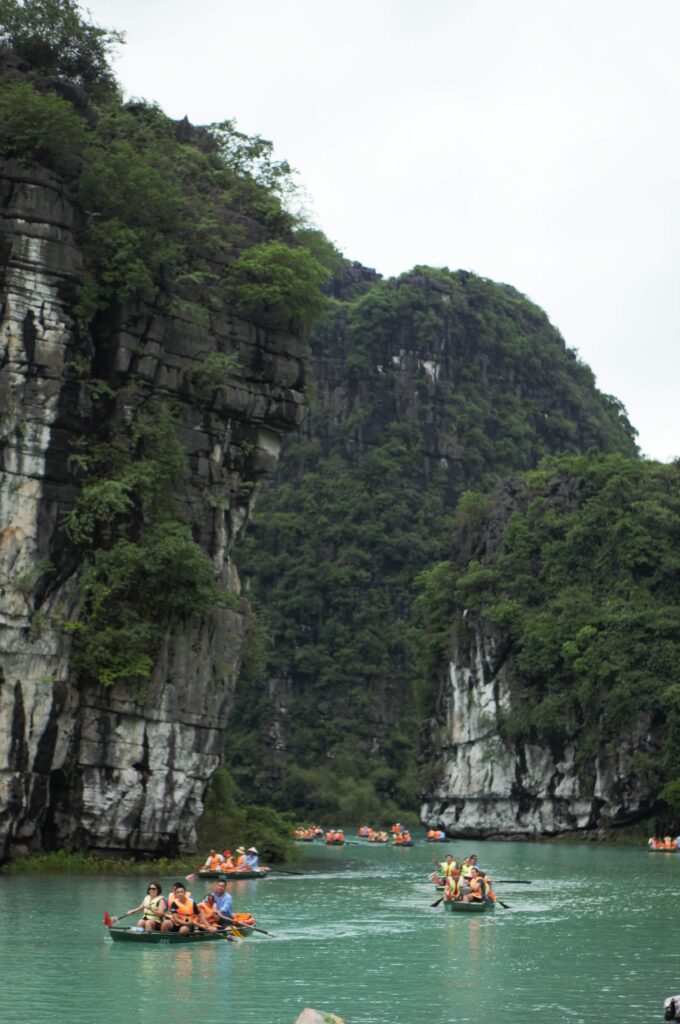 Ha Noi had a bad storm the next couple of days so we could not go to Ha Long Bay (another reason for me to go back to Vietnam next time). Ha Long Bay is also another must see location if you ever visit northern Vietnam. We instead met up with my middle school friends, played card games, and chilled at coffee stores around Hanoi.
? Budget:
1. Trang An/ Ninh Binh: $81 including lunch
2. Perfume Pagodas: $42 including lunch
3. Hotel/Accommodations: ~ $200 for 2 weeks
4. Food: ~ $150 for 2 weeks
5. Taxi/Transportation: ~100
6. Flights within Vietnam: ~$300
➡️Total without accommodations: $673
➡️Total with accommodations: $873
? Must Eats:
Any Vietnamese food that you can find, AND DO NOT GO FOR FUSION!!!
?Must Sees:
Di San Van Hoa Trang An (Trang An Scenic Landscape Complex)
Bitexco Floor 52 (Bar)
Hoi An (during the day and night)
The Golden Hand in Ba Na Hill
Thank you for reading and HAVE A GOOD ONE!