Hey there, hope your summer has been going well- no sunburn, lots of water, sleep, and great company. I spent my summer in super humid places in Asia this year. On this post, I'll share with you my experiences in Korea and my tips for future travelers. I will share with you my budget, itinerary, and favorite dishes that are must-try if you go to Korea.  
Day 1 (7/15/2019): Our flight landed at 5:30 PM local time so we didn't have much time for exploring besides visiting Namsan Tower that evening. It was not an easy hike up the mountain, but if you enjoy hiking and some exercising then go for it. Many people also take the bus up to the tower as an alternative to exercise. The admission price to go up to the observation deck is 11,000. After we saw Namsan Tower, I got a late night meal at a local noodle store on the way back to the hotel.
 Day 2 (7/16/2019) Changdeokgung Palace, Bukchon Hanok Village, Namdaemun Night Market
For breakfast, we ate oxtail porridge near the hotel. It was plain, but many Koreans recommend it as a cure for hangovers so we gave it a try. We spent the first full day in Korea visiting Changdeokgung Palace and Bukchon Hanok Village until through the morning till afternoon. We walked the majority of the time since the palaces were close to our hotel. We got lunch near the Bukchon Hanok Village. In my opinion, I ate my first authentic delicious Korean meal here.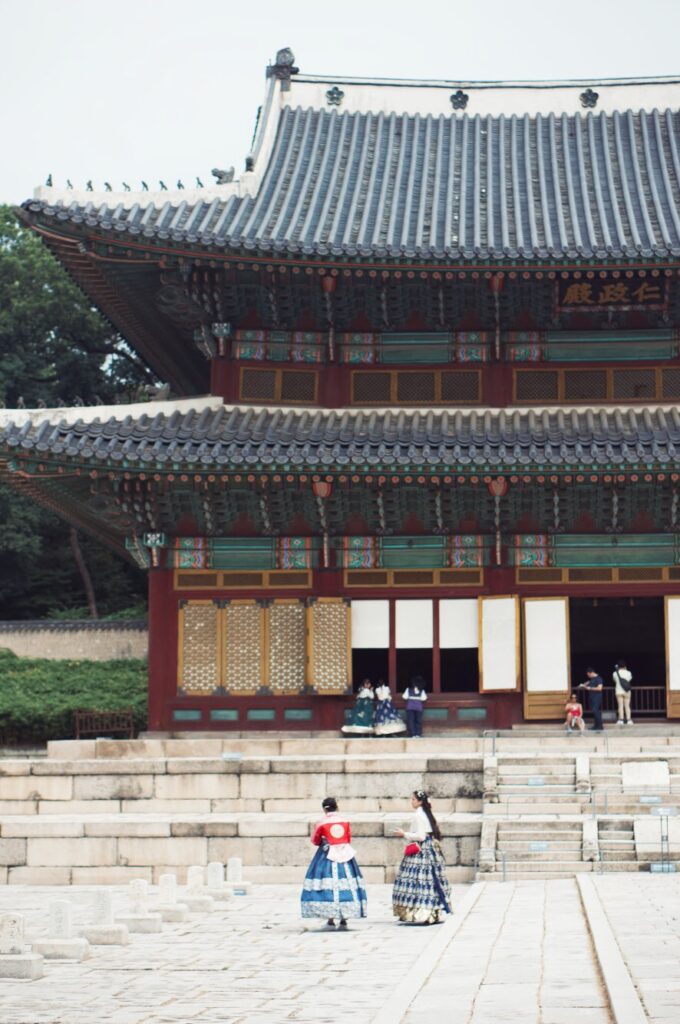 Day 3 (7/17/2019) Jogyesa Temple, Gyeongbokgung Palace, National Folk Museum of Korea, Qwangjang Market, Myeongdong Cathedral, 2D Cafe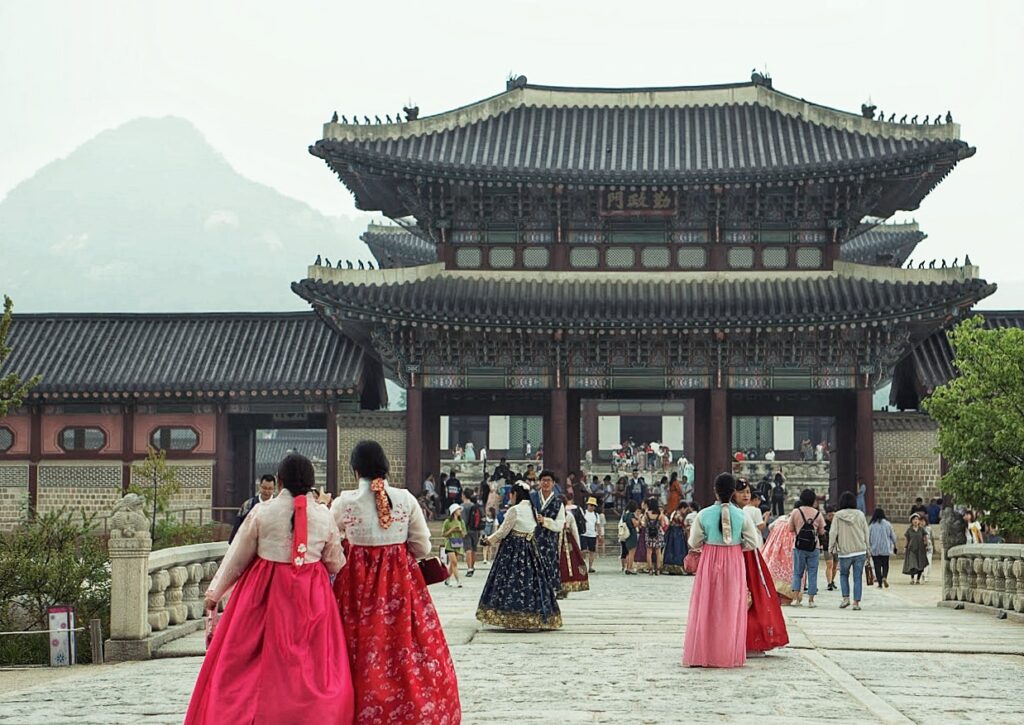 We visited Jogyesa Temple (조계사) on our way to Gyeongbokgung Palace. I was amazed by the arrangement of lotus flowers and colorful lanterns around the temple. This temple plays a leading role in Korean Buddhism and I noticed the large crowd coming here to pray often. The main hall of the temple holds 3 golden massive Buddha statues were awe-inspiring to gaze upon. We then continued on to Gyeongbokgung Palace, which served as the main palace of the Joseon Dynasty of kings that ruled Korea centuries ago. After, we went to the National Folk Museum of Korea which is conveniently free of charge and located on the palace grounds. After a long morning of walking around, we enjoyed lunch at the Netflix Street Food Featured Vendor at Gwangjang Market. It was delicious and the owner was very hospitable and welcoming. 
Day 4 (7/18/2019) DMZ tour, KBBQ, Myeongdong Night Market, and the Cheonggyecheon Stream
We spent our fourth day on a tour of the DMZ (Demilitarized Zone) – visiting the North/South Korea Border and getting to how Koreans make Ginseng. We got back around dinner time and we had Korean BBQ at a local restaurant that was recommended by our tour guide. After that we strolled around the Myeongdong Night Market and the Cheonggyecheon Stream. If you are looking for a good date location, Cheonggyecheon stream fits the bill. When I went, what stood out to me were the musicians playing music as ambiance, the numerous couples hanging about, how the skyscrapers rose above looming over the stream, and the orange aura that the lights provided.  This stream is a must see in Seoul and you will find that walking along it during the evening feels very relaxing.
Day 5 (7/19/2019) Busan
We took a train to Busan on the fifth day. I was slightly concerned about how expensive the ticket fare was; however, the ride offered great views of the Korean countryside. The train from Seoul to Busan took 2.5 hours. If you want to spend lots of time in Busan, I suggest staying over night or leaving Seoul early. We got to Busan around noon welcomed by gloomy weather. The taxi driver took us from the station to Haedong Yonggungsa temple. Along the way, we saw the second longest bridge in Korea, Gwangan Bridge. We saw the beaches while we were driving along the bridge. Locals said that Busan is has many beautiful beaches and is a summer holiday destination. In order to get to Haedong Yonggungsa, there was a short uphill walk where the road was lined up local food and drink vendors. From the temple, we had an amazing view of the ocean.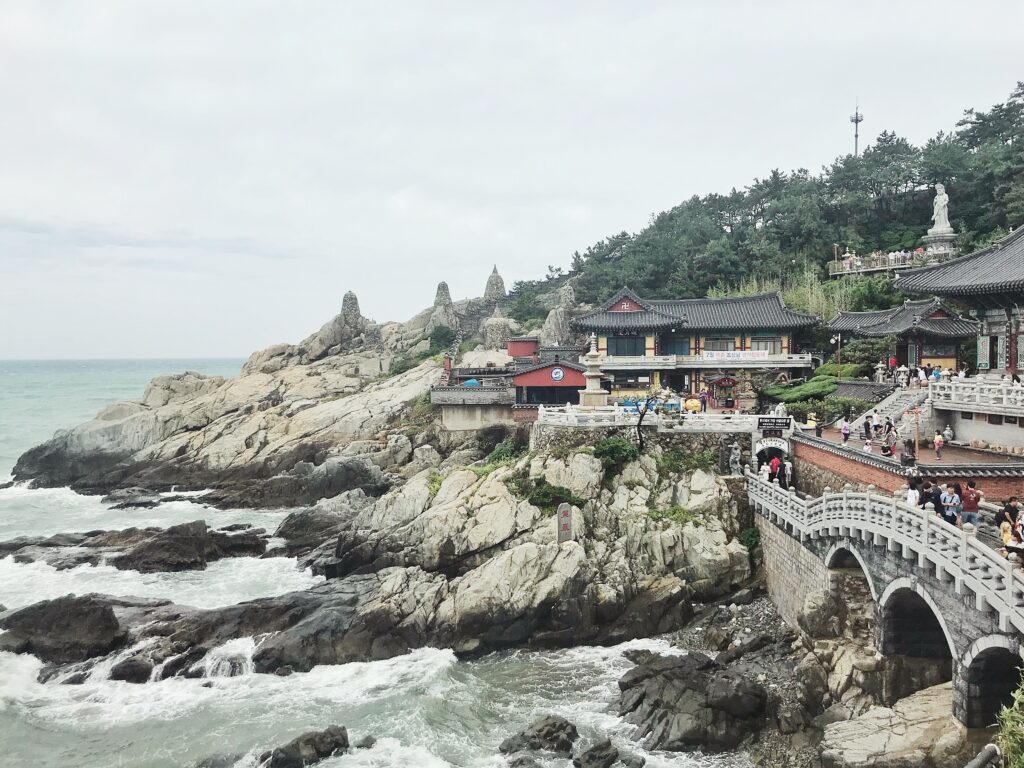 After visiting the temple, our taxi driver took us to the world famous Jagalchi Fish Market. Some of you might enjoy the restaurant experience more, but personally I love going to markets where I can see my food being made. There is just something about being able to see your food, picking it, and witnessing it being cooked fresh. I indulged in the best crab of my life there. We got the freshly boiled snow crab, live baby octopus, fried fishes, and Korean pancakes (which is also my favorite). We did not have enough time to visit the highly recommended Gamcheon Culture Village as we had little time between the end of our meal and our train ride back. Instead, we walked around the market and bought some souvenirs. We got back to Seoul near midnight. Considering how late it was and how tired we were, we opted for some instant noodles from the local mart next to our hotel for a late meal. 
Day 6 (7/20/2019) Bongeunsa Temple, Deoksugung Palace, Han River, and Star-field Library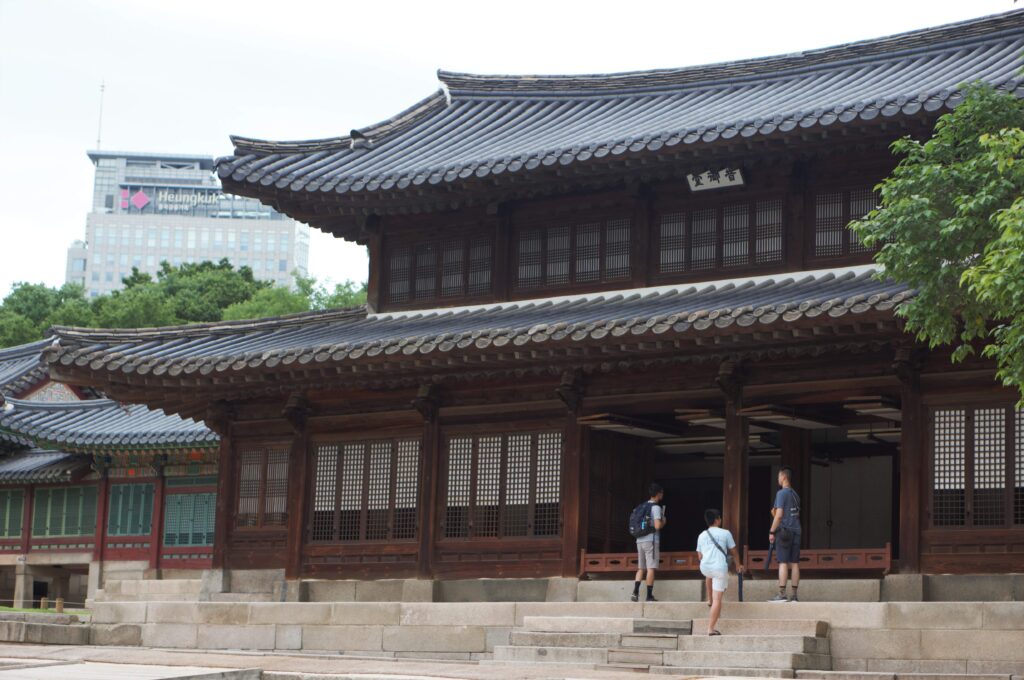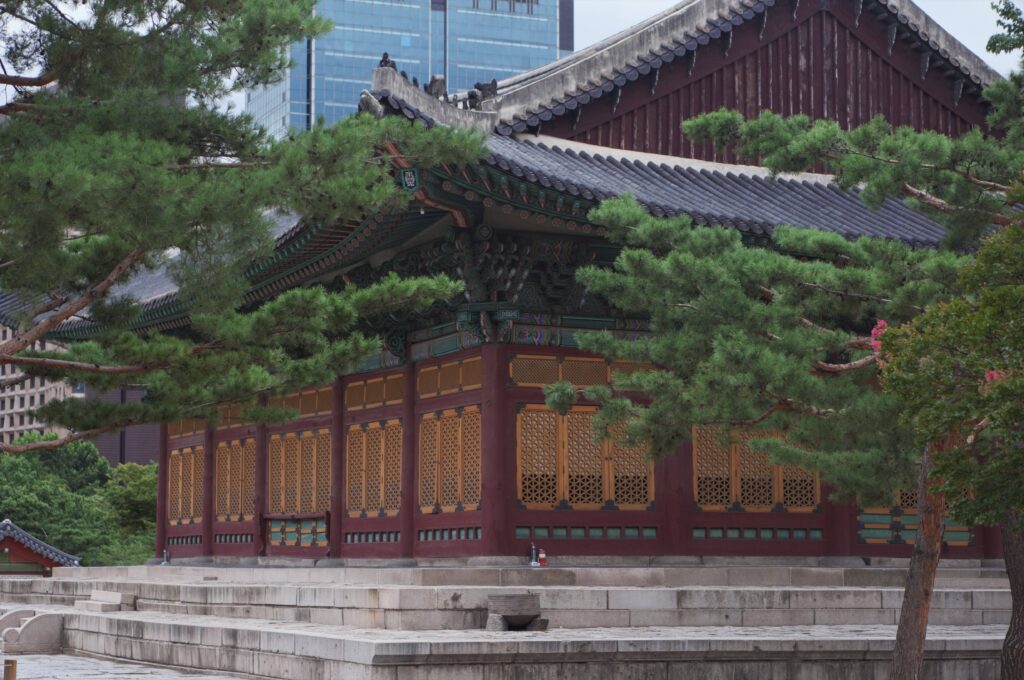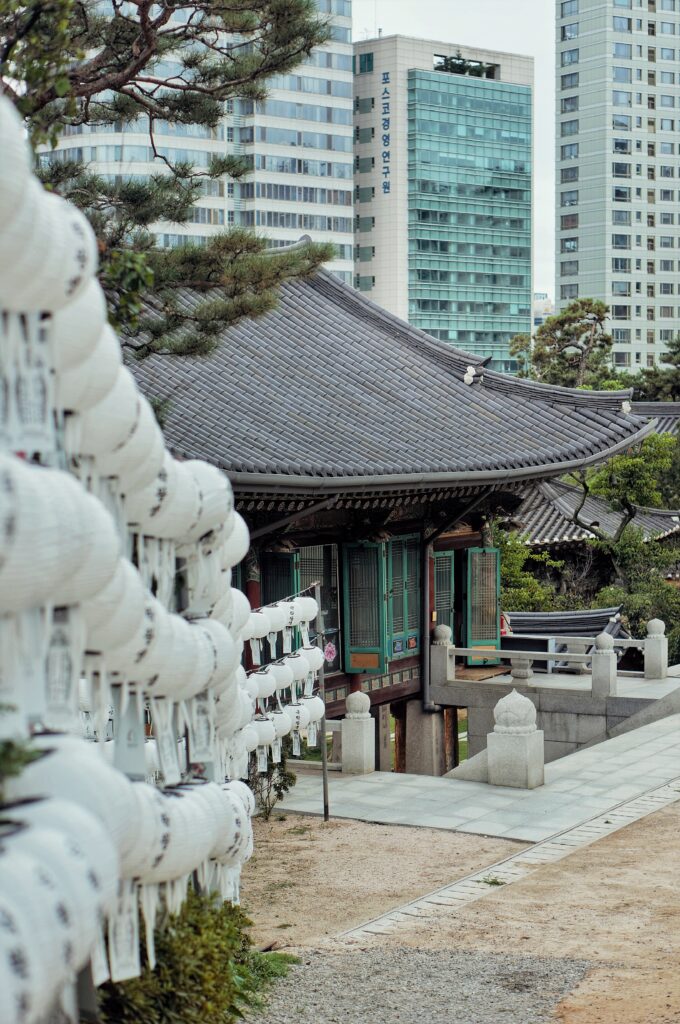 We started our last day visiting Deosugung palace. Before heading out, I enjoyed smoking hot bibimbap in a stone bowl at a restaurant near the hotel. As mentioned earlier, we visited several palaces all of which belonged to the Joseon Dynasty. When you go to Seoul, I recommend buying the palace bundle where you can get a cheap fare that allows for admission into all the palaces for one price. After visiting the palace, we had instant noodles by the Han river. Instant noodles are on a whole other level in Korea. You can cook your instant noodles in many convenience stores. I bought a shin ramen and kimchee packet. Ugh, it was such a good and cheap meal.
Afterwards, we headed to the Coex Mall in Gangnam. The Star-field library is a giant bookstore located inside there and is very popular place for both tourists and locals. Its unique architecture and giant bookshelves attract many visitors daily. It was the best bookstore I've visited thus far. While you're here, make sure to capture some boomerangs of the escalators. We then walked to Sul-bing Dessert for some shaved ice.
That concluded our Korea trip, and we then headed for Taipei the next day.
? Budget
Flights to all 3 countries and back: ~ $1600 from 7/15 to 8/9 (plane fare fluctuates depending on when you travel):
1. Accommodation in Korea: Center Mark Hotel. 6 nights of a single room for around $550 ($275 per person) 
2.Train to Busan ~100,000₩, Taxi in Busan ~9,000₩
3. Metro, bus, or taxi ~5,000₩ per day (taxi will be cheaper if you travel in a group) 
4. Meals for 6 days
➡️Total in Korea with accommodation ~$549
➡️Total in Korea without accommodation ~320,000₩  ~$274 
I exchanged $300 into ₩ when I landed in Incheon Airport so that covered everything plus some gifts I bought for friends.
? Must Eats:
Black Bean Noodles
Netflix Ahjumma Noodles and Dumplings 
Bibimbap in Stone Bowl
Soft Tofu Soup
Shaved Ice
Instant Noodles by the Han River
Fresh Snowcrab
? Must Sees:
The Palaces
Jogyesa Temple
Qwangjang Market
DMZ tour
Cheonggyecheon Stream
Yonggungsa Temple
Star-field Library
Thank you for reading and HAVE A GOOD ONE!